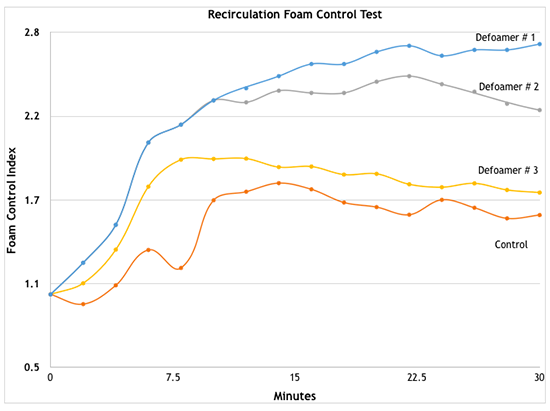 Ivanhoe operates a full R&D and applications lab that spends most of its resources on customer driven products. We have the ability to formulate defoamers, often using custom developed surfactants and defoaming actives, and test our formulations in our applications lab against competitive materials using the exact foaming media from our customer's process or a simulated media. We consider design inputs such as cost reduction goals, regulatory requirements and even customer marketing claims in our development process.
Ivanhoe's application lab utilizes several different types of test equipment to generate foam and to measure the performance of a defoamer. The type of test equipment used is based on the application that the defoamer will be used in and test results are communicated to the customer in an easy to understand, graphic presentation.
Once the top defoamer formulations are selected, Ivanhoe can assist our customers in testing their defoamer on a small scale in their actual manufacturing process. Small quantities of defoamer, from gallons to totes, can be produced and brought to the test site by our technical sales representatives and/or our R&D chemists to support the trial and dose rate optimization of the new defoamer. Once the new defoamer is in commercial operation, Ivanhoe is readily available to respond to process upsets or process changes that can affect defoamer use optimization.
---
Do you require a Customized Formulation?
Contact Us
to learn how we can help you with your custom solution needs!
Learn about our
Certifications
.