Ivanhoe Industries Inc. is committed to social, economic, and environmental sustainability. Programs and policies are in place to support and create a future to benefit all aspects of the company, its processes, and its employees. Ivanhoe's management is committed to compliance with all local, state, and federal regulations.

Ivanhoe strives to minimize its impact on the environment and maximize the effective use of natural resources available. This is done by taking steps and evaluating how to continually improve its environmental performance, conserving resources such as water, air, and energy whenever possible, and being environmentally conscious in our local community.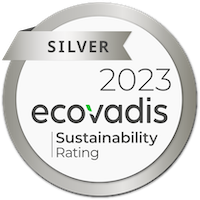 Vendors are monitored annually to ensure they are in compliance with all of our quality and safety requirements
Ivanhoe's focus is to develop more highly concentrated process aids to minimize water use, shipping emissions, and waste production
Our foam control agents are designed to minimize consumption while maximizing the efficiency of our customers' processes
Employees are educated and engaged on the foundations of sustainability through electronic communication and training through an established learning management software system
Ivanhoe ranked among the top 25% of companies evaluated for Corporate Social Responsibility by EcoVadis. We are committed to continuously improving our company's performance regarding global issues pertaining to the Environment, Labor & Human Rights, Ethics, and Sustainable Procurement.